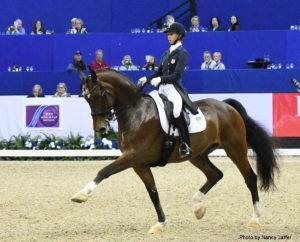 The world's highest-ranked riders in dressage and show jumping are set to compete next month at the Rolex Central Park Horse Show.
Germany's Isabell Werth and the USA's Laura Graves, the FEI's number one and two-ranked dressage riders, will renew their rivalry Sept. 22-23.
Great Britain's Carl Hester–the FEI's number three-ranked rider–also will join the fray in the shadow of the skyscrapers at the Wollman Rink, where competitors will ride in the Grand Prix on the afternoon of Sept. 22 and the Freestyle during the evening of Sept. 23.
In their most recent confrontation at Aaachen, Germany, last month, Isabell won the Grand Prix and the Freestyle, but Laura beat her for the first time in the Grand Prix Special. The same riders who will be seen at Central Park finished one, two, three in April at the FEI World Cup Finals in Omaha, with Isabell leading the way on Wiehiegold OLD and Laura right behind her on Verdades, so the rivalry is well-honed. Carl was third there with Nip Tuck.
Show jumpers are featured at Central Park Sept. 21, with a $40,000 speed class in the evening, and the night of  Sept. 22 with the $216,000 3-star Grand Prix. The world number one and two show jumpers, Kent Farrington and McLain Ward, will be in the line-up.
A series of hunter classics is featured on the afternoon of Sept. 23 highlighted by the $50,000 Duchossois Cup.
The Central Park competition begins Sept. 20 with an Arabian show. It ends on Sunday, Sept. 24 with exhibitions and free admission.
For tickets, go to www.centralparkhorseshow.com.