Be warned: Under-age drinking, which has plagued the Far Hills Race Meeting for years, will be the focus of a crackdown by authorities at its 97th running Oct. 21.
In a joint effort, Somerset County Prosecutor Michael Robertson, the State Police, race organizers, New Jersey Transit and the Borough of Far Hills are working to curb the problem by conducting identification checks of underage individuals suspected of drinking alcoholic beverages on the race grounds.
Those who are not of legal age to consume alcohol will be taken into custody, charged and ultimately released to an adult who is not intoxicated.
The initiative is going to start as soon as racegoers get to Moorland Farm. Any individual entering the event who is visibly intoxicated will be denied entry. Too many people in the past have gotten off the train at Far Hills station already drunk.
All racegoers over the age of 21 will receive a wrist band indicating that they are of legal age to consume alcohol. If an individual is observed consuming alcohol and does not have a wrist band, they will be required to show identification to law enforcement proving they are 21 or over.
If they don't have it, they will be escorted off the property. Officers will be conducting roving patrols throughout the day to identify those who are highly intoxicated and being disruptive. Anyone found to be causing a disturbance, endangering the safety and welfare of others or otherwise not complying with this initiative, will be escorted from the property.
Noting that law enforcement and the race meeting committee have been concerned about underage drinking, which was highlighted in a newspaper article in 2016, the prosecutor stated, "This year, we are taking a new approach in an effort to curtail the abuse of alcohol by minors and provide a safe atmosphere for all the attendees."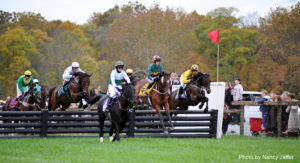 Race organizer Guy Torsilieri said the latest initiative is the next step in the committee's ongoing efforts to curb underage and excessive drinking at the annual race meeting, which draws some 35,000 fans annually. In addition to more efforts aimed at barring underage patrons from drinking, this year the committee has partnered with a ride-sharing company and others as part of an overall goal of making the race safe for all visitors.
"In past years, we have made significant strides in curtailing alcohol abuse at our event," Guy said. "But with underage drinking on the rise, particularly at events that draw significant numbers of college-aged visitors, we are determined to ensure that our event remains a fun, family event to be enjoyed by all."
Far Hills Mayor Paul Vallone welcomed the partnership with law enforcement and race organizers, saying the Far Hills Race Meeting is an asset to the borough.
"It is our goal that by working collaboratively with law enforcement and Far Hills Race Meeting Association, each patron who visits will be offered a safe, friendly atmosphere in which to enjoy themselves."
For more about the race meeting, go to farhillsrace.org.